As we wrap up another year at Peak Ace, let's take a look back at the last twelve months and what we've accomplished. 2022 saw major changes at the agency. We officially expanded to launch the Peak Ace brand in France; we signed new clients; continued to raise money for charity; and kept you updated through newsletters along the way.
Intrigued and ready to dive into our recap? Read on to get a lean and clean overview of what we've been up to in 2022 – and look forward with us into the new year.
Contents
A Year in Industry Awards
Staying in touch with you in 2022
Company Growth
In May 2022, the HEROIKS group united its performance marketing branches in France and Germany under the Peak Ace brand. Thus, French SEO Agency Search Foresight was rebranded, and Peak Ace France was born, with two locations in France: one in Paris and one in Nantes.
You can read all about it in our press release 'Peak Ace expands' where, in May, we reported that the two agencies would be working even more closely together under one brand, enabling Peak Ace to better benefit from access to local French businesses and France-based international clients. We also foresaw a wealth of new skills, practices, and marketing know-how – and we weren't wrong.
The expansion has gone very smoothly. It meant a larger team and a larger capacity, which we were glad to welcome. When our new French colleagues came to visit us in Berlin this autumn we were even more glad to discover that they definitely had the Peak Ace spirit! We are excited by our progress and can't wait to see where this may go in the future.
Welcoming new clients
As we expanded into new territories, our client roster expanded too. This year, we were excited to welcome AutoScout24, Edwards Lifesciences, Pliant, and more.
Other clients who joined us this year include:
We are delighted to have forged so many new partnerships in 2022 and are excited to see how they develop in the coming year – and beyond!
Becoming a Google Premier Partner
At the beginning of 2022, we were honoured with the Google Premier Partner status in the Google Partners Program. With this program, Google honours the top-performing digital marketing partners worldwide – and Peak Ace was included for 2022! In fact, we were named in the top 3% of Premier Partners in Germany. You can read more about it in our Google Premier Partnership press release.
Our new teams and structural changes
2022 also saw much internal change for our Peak Acers and their teams. Thomas Bayer joined the management team as COO to work alongside Bastian, leading to new reporting lines and enabling a faster and more efficient execution of ideas and plans.
For some Peak Acers, Thomas Bayer isn't a new face. He's been working alongside us (and our Organic Search Team in particular) since the beginning of April 2022, and we're delighted that he can join us in a more permanent position!
Thomas says, "I am very much looking forward to this new challenge" and that he is "very optimistic about the future". He has certainly proved his Peak Ace spirit in the past few months, and we're excited to continue to have him on the team.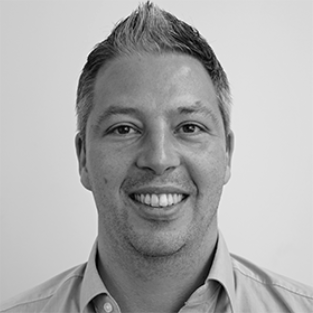 Peak Ace Apprentices
This year we also welcomed a whole new cohort of apprentices. One year after our apprenticeship scheme started, it is still going strong. Trainees currently work across our departments to learn and grow professionally.
Phi: "What I liked most was that I got the opportunity to meet a lot of new people. Everyone is super nice here; both Peak Acers from other departments and those on my own team. I'm especially glad that I got to know the other apprentices, with whom I get along very well and can already call "very good friends"."
Sudi: "There was a lot. One highlight was definitely the practice pitch, where we apprentices were thrown in at the deep end and had to deliver a complete pitch from scratch. It was very exciting to get a glimpse into the other departments and how they work together."
Marit: "Firstly, the variety of the work and the people I've got to know since I started here. Secondly, the opportunity to have a say as an apprentice and, despite the short time I've spent here and my limited experience, to be given a lot of responsibility and to learn and improve accordingly."
To learn more about apprenticeships at Peak Ace, you can check out our German-language blog post "Wir wachsen weiter".
A Year in Industry Awards
It was a huge year for online marketing awards at Peak Ace. We won an incredible total of 44 awards in 2022. We were also honoured at ceremonies internationally, from the European Search Awards in Barcelona to the Drum Awards in London.
The campaigns that helped us win
Peak Ace & Softgarden:
Recruiting software provider Softgarden partnered with us to increase their leads and top impression share. They also wanted to slash their CPL. Our strategy used in-depth market and target group analysis to identify our audience's needs and perform a thoroughgoing assessment of Softgarden's consent management setup. The work paid off! We lowered CPL, more than doubled the number of leads we had, and smashed our consent and tracking goals.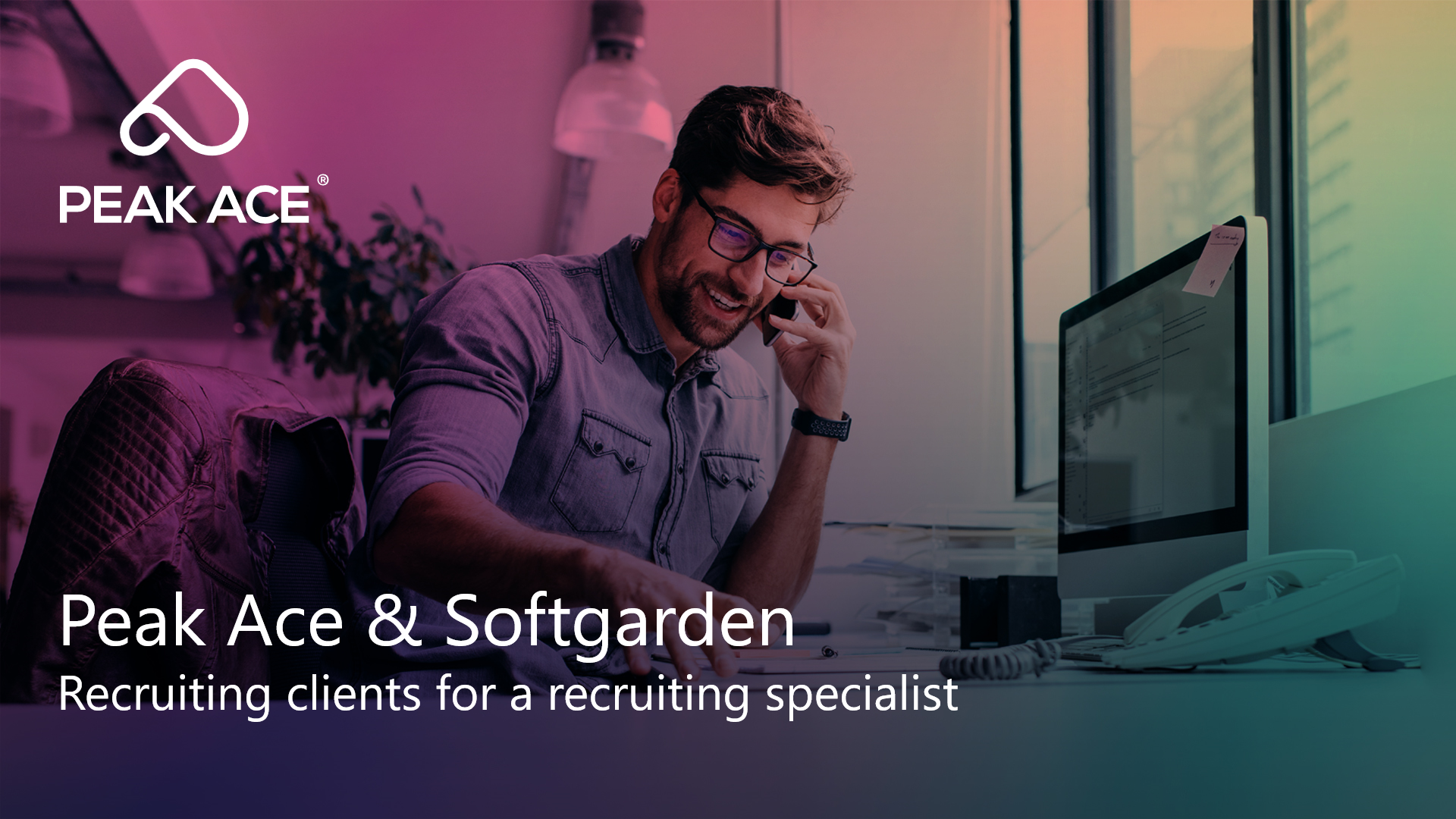 Softgarden had plenty of praise for Peak Ace:
Peak Ace & SharkNinja:
SharkNinja, a vacuum and cleaning supplies retailer, wanted to further expand its operations in Europe. After already delivering strong results in 2020, the client challenged us to double their revenue by the end of 2021, increase ROAS to 300% and boost conversions. Safe to say, we delivered! Actually – we overdelivered. Revenue more than quadrupled, and ROAS and Conversion Rate significantly increased.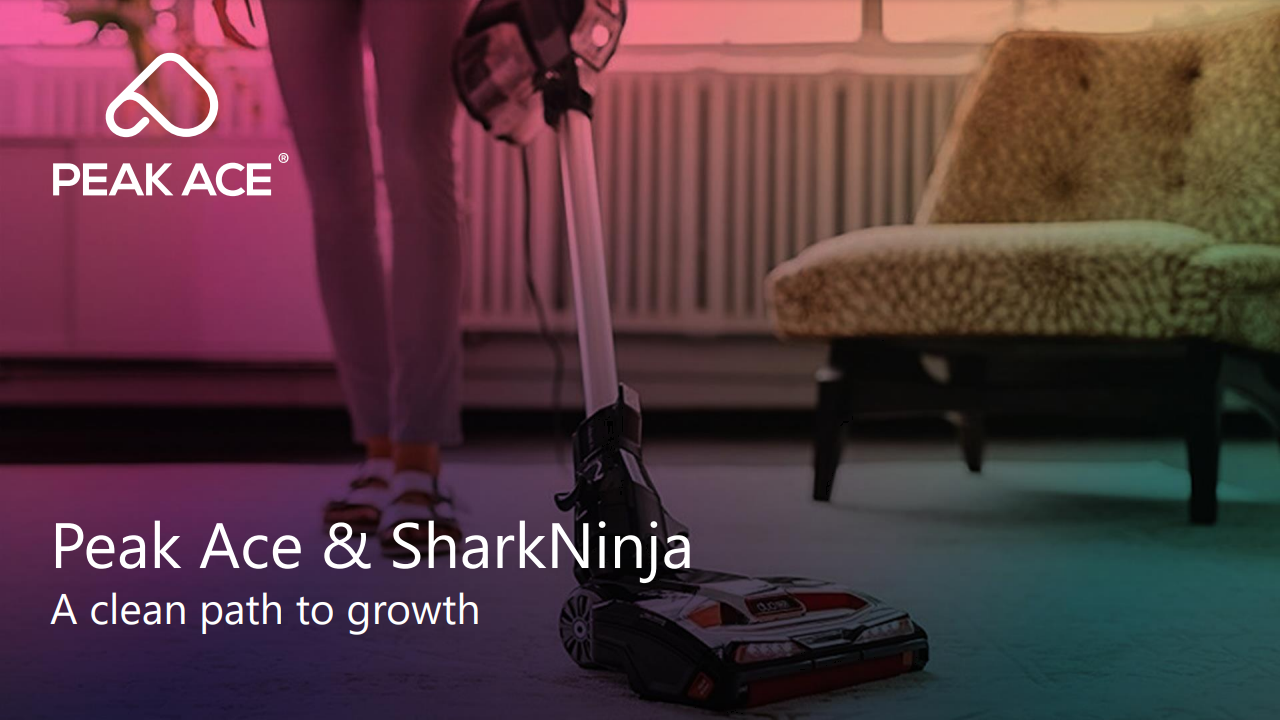 SharkNinja only had nice things to say about us:
How we celebrated at the European Search Awards in Barcelona…
The European Search Awards is the biggest event in the search marketing industry award calendar. So, last year, we were delighted to attend the live and in person event in Barcelona – particularly after the 3 year "break" that the coronavirus pandemic put on in-person celebrations. You can read all about the event in our European Search Awards 2022 blog post. Check it out for more info!
Here is the team and celebrations in Barcelona last year:
Events
We weren't just busy winning clients and awards this year; we were also busy hosting and attending events and conferences all over Europe.
Here's a timeline of our 2022 events:
15th March – Advanced Technical SEO Workshop @ SMX
16th March – SMX Munich 2022
23rd March – Digital Marketing Transformation E-Con & Expo 2022
30th March – Digital Marketing Europe 2022
17th May – OMR 2022
14th June – SMX Advanced US 2022
1st July – Search Y
1st August – One year of Peak Ace Leipzig!
21st September – DMEXCO22
28th September – pre-conference networking for SMX Advanced Europe 2022
29th September – SMX Advanced Europe 2022
5th October – Paid Social Show by BrightonSEO
7th October – OMT 2022
3rd November – GoTech World 
8th November – SEO Day
18th November – SEOkomm
One year of Peak Ace Leipzig!
Summer 2022 marked one year since we opened our second German location in Leipzig. 2022 was also the year that we moved out of our shared space and into a proper office. Peak Ace Leipzig is now located at Nikolaistraße in Leipzig, close to the Hauptbahnhof and amid some of the beautiful old buildings in the city. The team have settled in well to their new surroundings. Here they are enjoying the office:
The pre-conference event for SMX Europe – September 2022
This autumn we were thrilled to hold the pre-conference networking event for SMX Advanced Europe. It all kicked off at our Berlin office on September 28th, where Peak Acers and conference attendees alike gathered to chat, network, and enjoy the delicious canapes prepared by our kitchen team.
Here are some impressions of the evening:
SEOkomm 2022 – November 2022
SEOkomm is a renowned German-language search marketing conference (with "Herzblutgarantie"!) that takes place every year in Salzburg. This year, Peak Ace CEO Bastian Grimm impressed with his 2022 keynote speech "AI is eating the world (and Google)".
The description for Bastian's session went as follows:
"AI is currently the topic on everyone's lips. Amid the buzz, Peak Ace's Bastian Grimm, internationally renowned expert in large-scale SEO, is here to clear things up in his keynote, exploring the depth and breadth of AI – and how search comes into it."
However, Bastian wasn't just there to talk – he was there to test how good we as people are at recognising the differences in content written by humans and content written by artificial intelligence. As the conference attendees settled into their seats, they had no idea that they were about to be tested on whether they could identify the manmade piece of content from the robot-written one.
As the talk began, attendees were presented with four texts: two written by an artificial intelligence program and two written by humans. The results showed that about half of the conference participants prefer the texts created by AI.
Attendees loved the keynote, and the reviews were in:
Happy Peak Xmas!
Our 2022 Christmas Party was, as always, the event of the season! Peak Acers gathered at Sage Restaurant in Kreuzberg on the 16th of December 2022 to celebrate the end of the year and look forward to the holiday period together.
The evening kicked off with mulled wine and smiles for those in attendance. Slowly, the Peak Acers began to mill into the restaurant to take their seats and eagerly await their dinner. The food was a delicious three course meal, accompanied by drinks and lively conversation, and was followed by the highlight of the night: the Peak Ace employee awards.
Every year, Peak Acers are invited to nominate their colleagues to win awards in a variety of categories, including Newcomer of the Year, Helpful Hero, and Hidden Gem. At the Christmas party, the winners were called up one by one to raucous applause.
With the food eaten and the awards handed out, all that was left was for the Peak Acers to dance the night away (wearing the Peak Ace hoodies they got in their goodie bags, of course!) We already can't wait for next year!
Staying in touch with you in 2022
We always love sharing what we're up to with you. In 2022, we continued to do this with a passion. Via our Twitter, LinkedIn and Facebook, we kept you updated about company events and resources, as well as when we were hiring. On our Instagram page, we showed you what it's like to be a Peak Acer, shared images of our office, and kept you updated on Leipzig news. Finally, with our blog and our external newsletter, we kept you up to date on all the important company news.
Our external newsletter
After relaunching our quarterly external newsletter in 2021, we were proud to continue sending our updates and news to our clients with it this year.
If you haven't read it before, our newsletter shares general news from the online marketing space hand-picked by our experts in house, upcoming events, and a long-form piece about an interesting topic. Keep your eyes peeled for even more exciting editions in 2022.
Our Instagram
In 2021, our Instagram account underwent a massive face-lift. We wanted it to be a place for past, present and future Peak Acers to find content that spoke to them. Office updates, employee interviews, and team photos were the order of the day there. This only continued this year.
Some of our 2022 Instagram highlights include:
… A very popular reel and a new story takeover segment that follows a day in a life of a Peak Acer: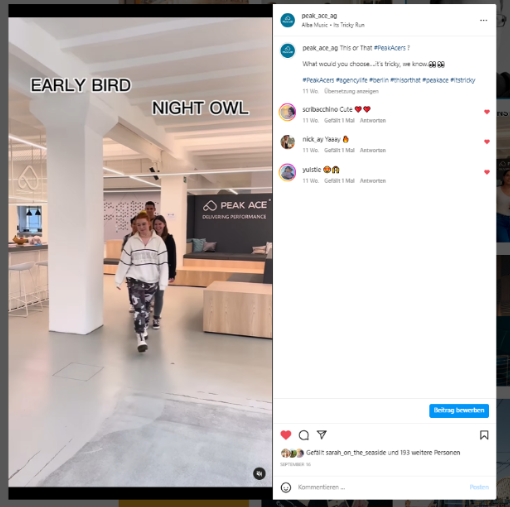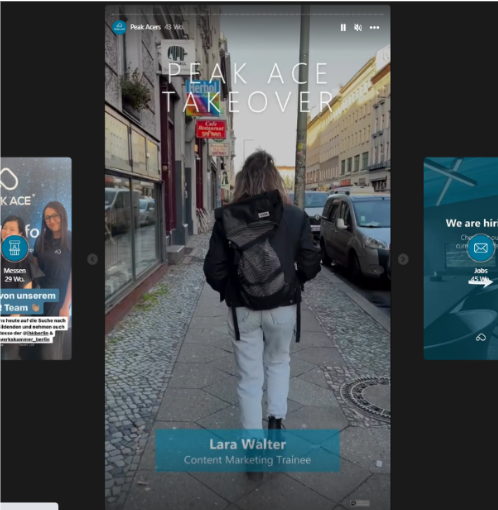 Some great events documented in our stories, including…
The 2022 OMKB conference and our Halloween charity bake sale: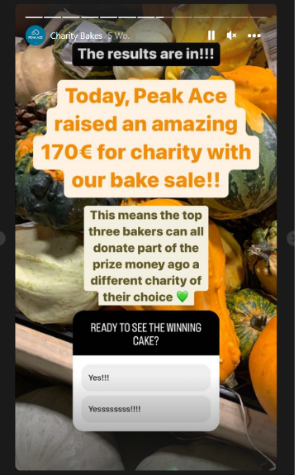 All in all, our Instagram channel tried to keep you up to date on all our employee agency news (and we'd like to think succeeded!) Head to our page and follow along now for all the 2022 highlights.
Looking forward into 2023
There's certainly never a quiet year at Peak Ace – and we wouldn't want it any other way. 2022 is a year to be proud of. The things we achieved over the past 12 months – opening in locations in France, achieving Google Premier Partner status, and welcoming so many fantastic new clients – are certainly not to be sniffed at.
Wherever you're reading this blog post, and however you welcomed in 2023, thank you so much for supporting us over the past 12 months. Join us now in a toast to the year gone by and a warm welcome to 2023 at Peak Ace!
Peak Ace Digital Marketing News
Stay up to date with the latest developments in AI, digital strategy, paid and organic marketing channels, CRO, and data-driven marketing with our newsletter.