"Artificial Intelligence is the defining topic in digital marketing 2023 – and it will be in the future too. While it comes with its risks, the opportunities that AI offers digital marketers prove that when you treat it with caution you will reap the rewards of working with artificial intelligence in your future digital marketing strategies."
Bastian Grimm, CEO Peak Ace AG
Are you ready to revolutionise your marketing efforts with the latest advancements in Artificial Intelligence? Peak Ace is proud to present "The Online Marketer's AI Playbook" – a comprehensive, expert-authored whitepaper that explores AI's incredible potential for transforming the way we approach marketing.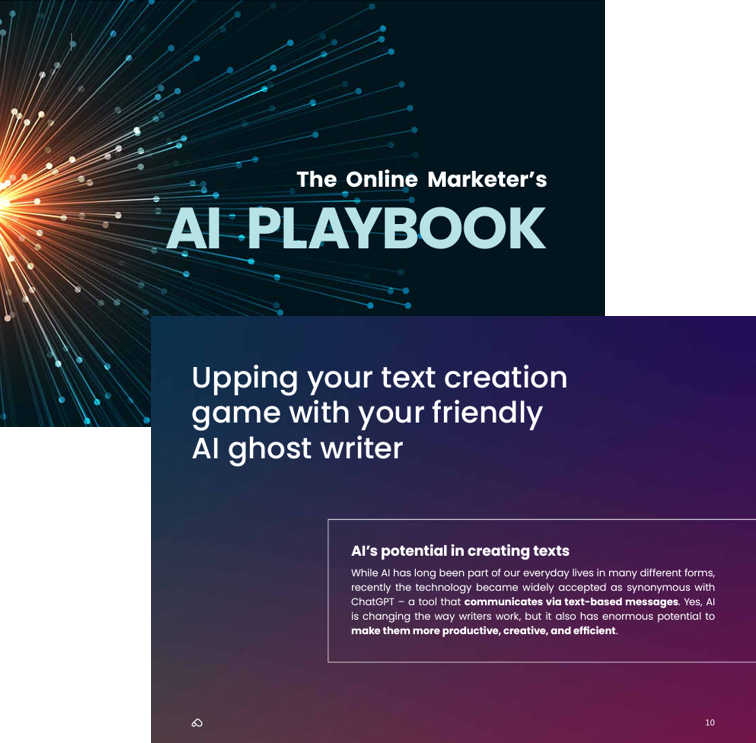 Discover the future of marketing with AI
In this whitepaper, we delve deep into the realm of AI and its past and future impact on marketing practices. Gain invaluable insights and learn how to leverage AI technologies to gain a competitive edge in the digital landscape for your business in the following key areas:
Content is … artificial? – Marketing meets AI: Explore the many applications for AI in marketing and how it can enhance customer experiences, automate processes, and optimise campaign performance.
Upping your text creation game with your friendly AI ghost writer: Uncover the remarkable capabilities of AI to generate compelling content and how you can use it to scale-up quickly and easily.
Creating out of this world art with AI: Dive into where AI meets art and witness how AI algorithms can produce stunning (but not perfect) visuals that captivate your audience through our case study.
Chief Prompt Officers in the making: Learn from the experts in the art of crafting prompts so that you too can unlock the true potential of AI-powered writing tools and maximise their effectiveness.
Intelligent search engines – searching with AI: Explore how search engines are beginning to utilise AI and shape the future of SEO.
Why Download "The Online Marketer's AI Playbook"?
By downloading our whitepaper, you'll gain exclusive access to a wealth of knowledge that can transform your marketing strategies and set you apart from the competition. Stay ahead of the curve, gain practical insights, tips, and real world examples, and expand your skill set today. In discovering how AI can streamline your marketing workflows, boost efficiency and more, you'll take your work to the next level.
Don't Miss Out – Download Your Copy Today!
The future of marketing is here, and "The Online Marketer's AI Playbook" is your comprehensive guide to leveraging the power of AI in your strategies. Don't miss this opportunity to gain a competitive advantage in the digital landscape. Complete the form below to download your copy now and embark on an exciting journey powered by AI.