Last week we held our collective breath at Peak Ace HQ as the Global Search Awards ceremony took place in Paris. After being nominated 24 times across 19 categories, we were feeling positive, and by the end of the night we were proven right. Peak Ace had won five amazing prizes:
Best Use of Search – Finance (PPC): Large (Peak Ace & Concardis – Tracking the way to higher card acceptance in Germany)
Best Use of Search – Retail / Ecommerce (SEO): Large (Peak Ace & faireparterie & kartenmacherei – A match made in heaven)
Best Use of Search – Automotive: Large (Peak Ace & Autoscout24 – Against all Odds – Crisis-proven content)
Best Local Campaign (SEO): Large (Peak Ace & faireparterie & kartenmacherei – A match made in heaven)
Most Innovative Campaign (SEO): Large (Peak Ace & faireparterie & kartenmacherei – A match made in heaven)
Winning so many prizes meant that our team were on their feet a lot going to and from the stage! Luckily Nicole Bodien, Head of Content and SEO, and Mats Kühl, Head of Performance Advertising, were dressed to the nines and ready for the challenge:
Bastian Grimm, CEO of Peak Ace, said of the wins:
"We are very pleased to have won at these prestigious awards this year. These wins wouldn't have been possible without our amazing clients and the trust they put in us or without our brilliant Peak Acers. It's our collective hard work, teamwork and determination that really makes these campaigns award-winning."
Congratulations to all our fellow nominees and winners!
Take a look at our 2023 award-winning campaigns:
Peak Ace x faireparterie & kartenmacherei  – A match made in heaven
faireparterie and kartenmacherei partnered with us with three main objectives. Firstly, to strengthen their backlink profile, secondly, to increase top-of-mind brand awareness, and thirdly, to maintain and improve their rankings. Our strategy used a robust, trust-building content strategy based on our outreach experience and takeaways from previous campaigns to produce a broad data-driven campaign for both markets.
To see this through, our content marketing and SEO teams worked together and created detailed analyses of data that allowed us to prioritise certain product categories and create newsworthy, tailored content to rank for keywords related to link building alongside a creative email outreach strategy.
Our outreach tactics even ensured success before our go-live date. We achieved our goals, outperforming the competition in both markets to drive traffic and boost rankings, averaging at least >1 million monthly visits to our media mentions and maintaining the #1 ranking spot in the German market.
Thanks to the amazing work of our teams, and our outstanding teamwork with our client, we met our goals and more than satisfied our client.
Most importantly, the client was happy:
"Our cooperation with Peak Ace has thrived over more than six years and with their help we have consistently created goals that further our vision as a company. Peak Ace had our backs throughout our efforts in strengthening our SEO and content marketing, helping us to meet and even exceed our targets. The agency is an ideal sparring partner, providing a high level of expertise and technical knowledge with a hands-on approach. Many thanks to Bastian, Dominique and their teams for their continued support and hard work!"
Here are Peak Acers Nicole and Mats accepting just one of our three faireparterie & kartenmacherei wins:
Peak Ace & AutoScout24  – Against all odds – Crisis-proven content
AutoScout24 has been helping customers find the right car for them since 1999. With more than 30 million monthly users, AS24 is Europe's biggest used car marketplace. Their range includes new and classic cars, motorcycles, quads, trucks and commercial vehicles.
AutoScout24 came to us with three objects. Firstly, to increase relevant traffic to AutoScout24.de and gain more relevance on the model pages. Secondly, to shirt away relevance from listing pages with user generated content to high-quality model pages. Thirdly, to prevent canniablisation of both page types to enable higher rankings in the SERPs.
To achieve these goals we chose 930 relevant model pages, prioritised them by traffic potential (search volume), and updated them with new, relevant copy tailored to the target group and user intent. All of our editorial managers took part in this project, researching, writing, completing quality assurance and publishing 1,110 content pieces in six and a half months. We also added more helpful content, creating 180 comprehensive guidebook pages on a range of relevant topics to gain more informational rankings.
Our hard work paid off and we delivered on all of our objectives, seeing through a 32% uplift on model pages, and a significant uplift on relevant keywords.
The client has great things to say too:
"Peak Ace believes in client success, using the necessary tools and expertise to make that happen. The content marketing team of AutoScout24 was excited to see how professionally and fast Peak Ace approaches content projects. The communication with the team was responsive, flexile and forward-thinking. The outstanding content quality and the excellent project management of Peak Ace made the challenging high-scoped content project of AutoScout24 possible. With Peak Ace we not only have a reliable partner – they are an extended arm that improves our content marketing efforts and increases the overall content performance."
Here are Peak Acers Mats and Nicole on stage accepting our AutoScout win:
Peak Ace & Concardis – Tracking the way to higher card acceptance in Germany
Nets, a payment solution provider, requested our help to increase sales volume from non-brand search campaigns. The goals were to increase sales in 2022 and to keep the cost per sale low. The initial average monthly budget for non-brand campaigns was also significantly cut at the end of Q3, so we had a challenge on our hands.
To reach our target audience frequently and generate leads efficiently, we based our digital strategy on two media channels: paid social (Meta) and paid search (Google Ads and Microsoft Advertising). Programmatic display retargeting played a supporting role. Most excitingly, we achieved GDPR-compliant tracking independent of 3rd party cookies, used AI fed with CRM-based signals guided by human supervisors to achieve outstanding results, and worked collaboratively and tactically to implement our strategy.
These creative solutions had great results. We overachieved our sales goal by +31% and our average cost per sale goal was only –36% below target. Even though category interest in Q3 was at its lowest since 2019, we managed to make June, July and August our three most successful months for sales volume.
The client was also very pleased:
"Peak Ace has been our preferred digital media partner for more than 5 years from the first test leads starting from zero to delivering 5-digit B2B leads yearly across 6 markets, and still increasing. Peak Ace is considered an intrinsic part of our marketing team, delivering invaluable assistance on both tactical, strategical and technical challenges. They have adapted as our company has grown and changed, always with the focus on how to support us the best. I have a strong feeling that even better things are to come in the future."
Here are Nicole and Mats on stage accepting our award: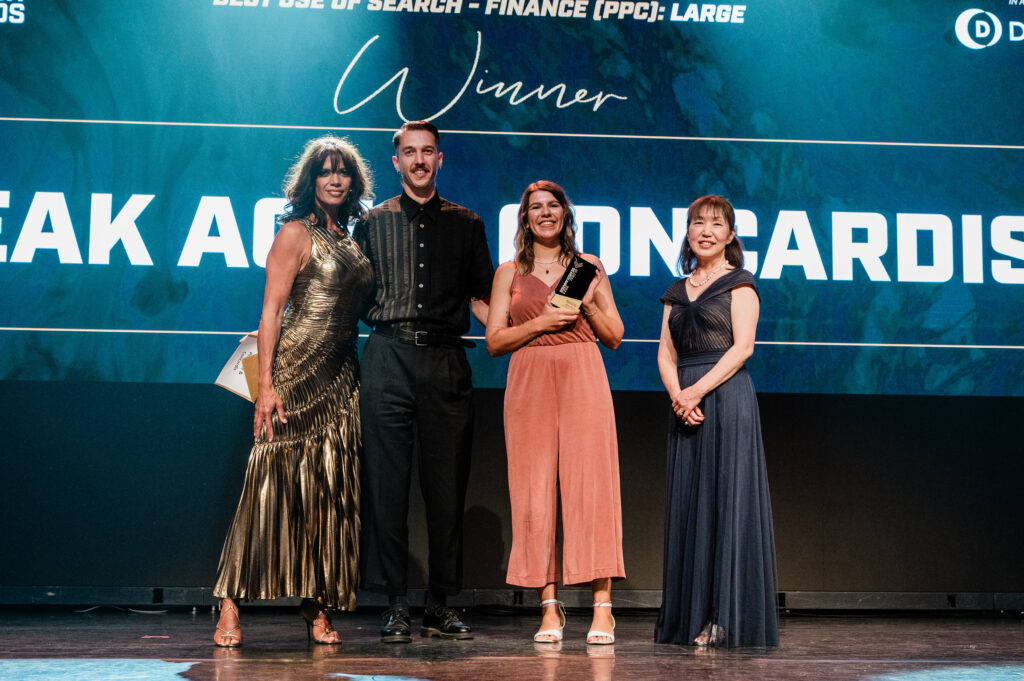 About the Global Search Awards
The Global Search Awards recognises and celebrates the impact PPC, SEO and Content Marketing has around the world. The awards celebrate search agencies and teams who are transforming businesses through innovative engaging campaigns that stand out from the crowd; innovative and cutting-edge software and people who have triumphed across diverse digital landscapes.