AI is one of the most exciting topics in SEO right now. From timesaving content AIs to exciting image and video generation, to Google improvements, it really has been the topic on everyone's lips.
AI has been on our minds at Peak Ace too, as our teams have been testing out tools like Jasper, copy.ai or most recently ChatGTP for a while now. Meanwhile, Bastian gave his keynote "AI is eating the world (and Google)" at SEOkomm 2022, and this month he shared his top 5 SEO AI tips for SEOs on the RankRanger In Search SEO podcast. In his words: "I think AI's a topic that the search marketing community in itself, especially SEOs, need to get familiar with and not be afraid of."  
But why is that? And what does the rise of AI content mean for you? Let us take you through it.
AI and Google
Google is no stranger to AI development. Here's a quick timeline of how it's been utilising different forms of machine learning and, more recently, artificial intelligence:
Google's been using RankBrain since 2015 to get a better understanding of words and terms in search.
Neural Matching was introduced in 2018 to help Google understand how search queries relate to pages.
BERT came about in 2019 to help Google understand the different meanings and intentions in different word combinations.
MUM has been used since 2021 to help Google understand and generate languages.
Most recently, Google is working on introducing more AI initiatives for us users. Google Imagen Video and Phenaki (a model for generating videos from text) are some of the newest tools and are set to offer some pretty exciting opportunities for you to create your own visual content through AI – however, they're not without their limitations. Google says:
Imagen relies on text encoders trained on uncurated web-scale data, and thus inherits the social biases and limitations of large language models. As such, there is a risk that Imagen has encoded harmful stereotypes and representations, which guides our decision to not release Imagen for public use without further safeguards in place.
It's clear that there's still work to be done on Imagen, but it's exciting to see how far it has already come. We should all keep our eyes peeled for updates and look forward to when it is ready for public use.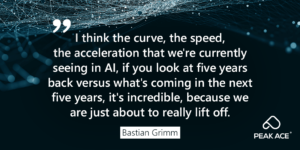 Using AI to create written content
One exciting use for AI from an SEO point of view is content creation. AI-generated content is exciting as it could save you a lot of time in content creation. OpenAI, the company behind GPT (2 and 3), has been a big driving force behind this movement. Their newest addition, ChatGPT is a very powerful tool which can be used by anyone, free of charge (at least for now). Based on your prompts and what you ask it to do, ChatGPT can answer questions, generate essays, create and explain codes, and more.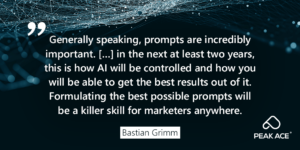 For a lot of the AI tools out there, it's important that the prompts you write are well formulated. As Bastian says, "Whoever formulates the best, most creative and most unique AI prompts will create the best content". It's a good idea to get used to doing this now so that you're ready for when AI generated content is at the absolute forefront of the industry.
An important note: this isn't to say that Content AI tools will generate a perfect and ready-to-publish text. It's crucial that you edit and give your AI-generated texts a proofread before you go live with them. Fact-checking and adjusting to your company's style guide are particularly important.
What does Google think of AI-generated content?
Fortunately, when it comes to how AI-generated content might rank in the SERPs, we don't have to do too much guessing. Google spokespeople have already spoken out on the topic. In November 2022, Danny Sullivan put out a statement:
We haven't said AI content is bad. We've said, pretty clearly, content written primarily for search engines rather than humans is the issue. That's what we're focused on. If someone fires up 100 humans to write content just to rank, or fires up a spinner, or Ai, same issue…
Ultimately this confirms what we've known all along: poor quality content won't rank well; and what Danny Sullivan argues is that you shouldn't waste Google's crawl resources on poor content – not least because low-quality content is bad for your site.
So, if you do use AI to produce content for your site in the future, make sure that you're doing it as carefully as possible, that you're still producing good content for readers, and that you always, always edit, proofread and fact check before you go live with your AI-generated content. As Sullivan says in the same Twitter thread: "it's unlikely some AI content is going to feel written by people without some degree of human review", adding, "Is the content you're producing helpful, reliable and people-first in nature? That's what we're looking for".
What can I do?
So, as AI's capacity to create online content increases, the best thing we can do as SEOs is move with it, stay informed on its progress and take advantage of every opportunity.
Here's what you can do:
Understand where Google is already using AI
Test assisted tools, try out and profit
Stay up to date
There are plenty of ways to stay up to date with developments in the AI tool landscape. One great resource is the Sequoia Generative AI Application Landscape, which lists and groups text, video, image, code and speech-generation AI programs, as well as more miscellaneous tools, by time. Another great site is bleeding edge ai – "a feed of noteworthy developments in AI", according to their site. As long as you're keeping up to date, you're unlikely to be left behind!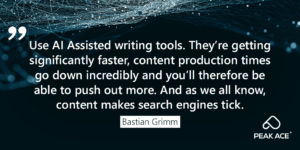 Want to hear Bastian speak on the topic? Check out his appearance on the In Search SEO podcast or join him at SMX Munich in March for his talk The Rise of AI: Beyond the Theory – Tools, Use-Cases & More.
How can Peak Ace help?
We're deep in the topic of AI and would love to assist in finding creative AI use cases for anyone interested in branching out. Get in touch with our Business Development Team to find out what we can do for you. Just email Sara Schaarschmidt at [email protected].
Peak Ace Digital Marketing News
Stay up to date with the latest developments in AI, digital strategy, paid and organic marketing channels, CRO, and data-driven marketing with our newsletter.