This week has been all about SMX! We kicked things off on Tuesday with our pre-event at the Peak Ace Berlin office, where SMX attendees were welcomed to gather, network, and enjoy drinks and snacks, before diving head first into a week of great talks at the Pullman Berlin Schweizerhof in Berlin. This blog post will walk you through our time at SMX and some of the great talks we attended, including "The Rise of AI: AI is "Everywhere", But Now What?!" by Peak Ace CEO Bastian Grimm. Let's get into it!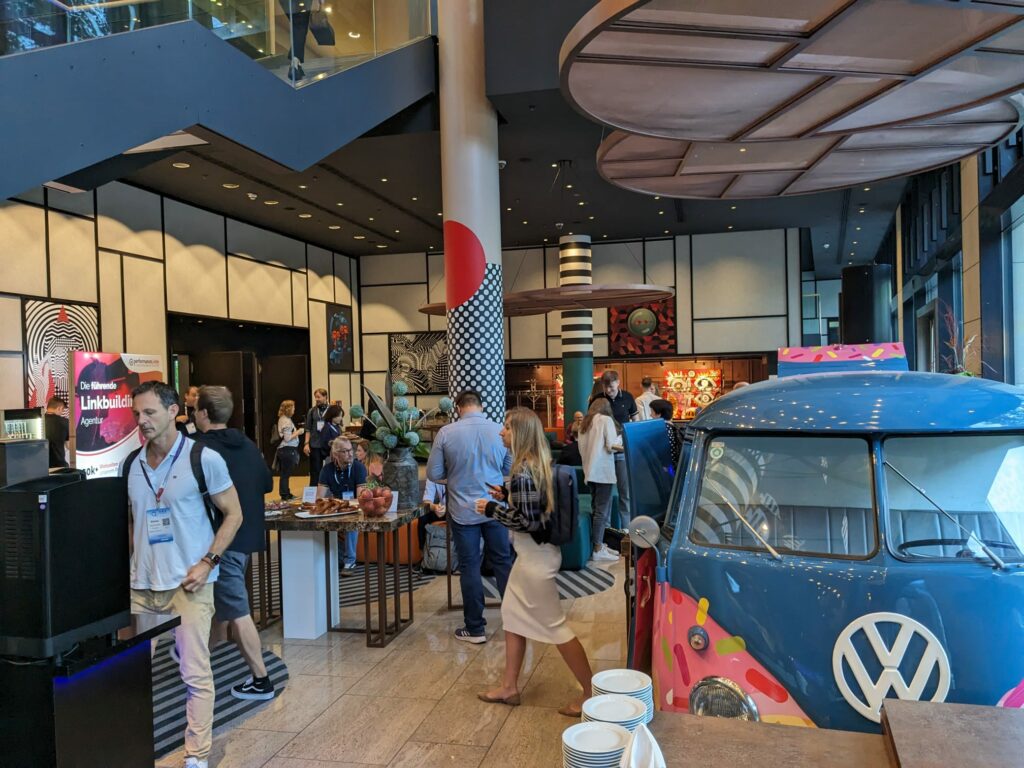 The Pre-Party
On Tuesday night, together with the SMX Advanced team, we welcomed a group of SMX ticket holders into our office for a night of networking before the conference really kicked off. Attendees enjoyed complimentary food and drink and (those who traveled to attend the conference) could settle into Berlin with like-minded search-focused individuals. They could even participate in our fantastic AI quiz to win prizes.
SMX Day 1
As much as we loved the pre-party, we couldn't wait to get started with SMX itself. On Wednesday morning our day started early with a short coffee reception before the opening talk at 9:00.
André Morris, CEO konversionsKRAFT (Web Arts)
André Morris opened the conference with his talk "How to become a more resilient player in times of dynamic market conditions". He immediately began to tackle how quickly online marketing is changing and how this looks for digital native and non-digital native companies. Ultimately, his talk pushed the point that you have to keep trying and trying different methods to reach the best kind of success for your company and pick the right metrics for your decisions.
Key takeaways included:
Understanding the changing demand landscape
Strategies for organisations and teams to adapt quickly
Winning principles to thrive in challenging times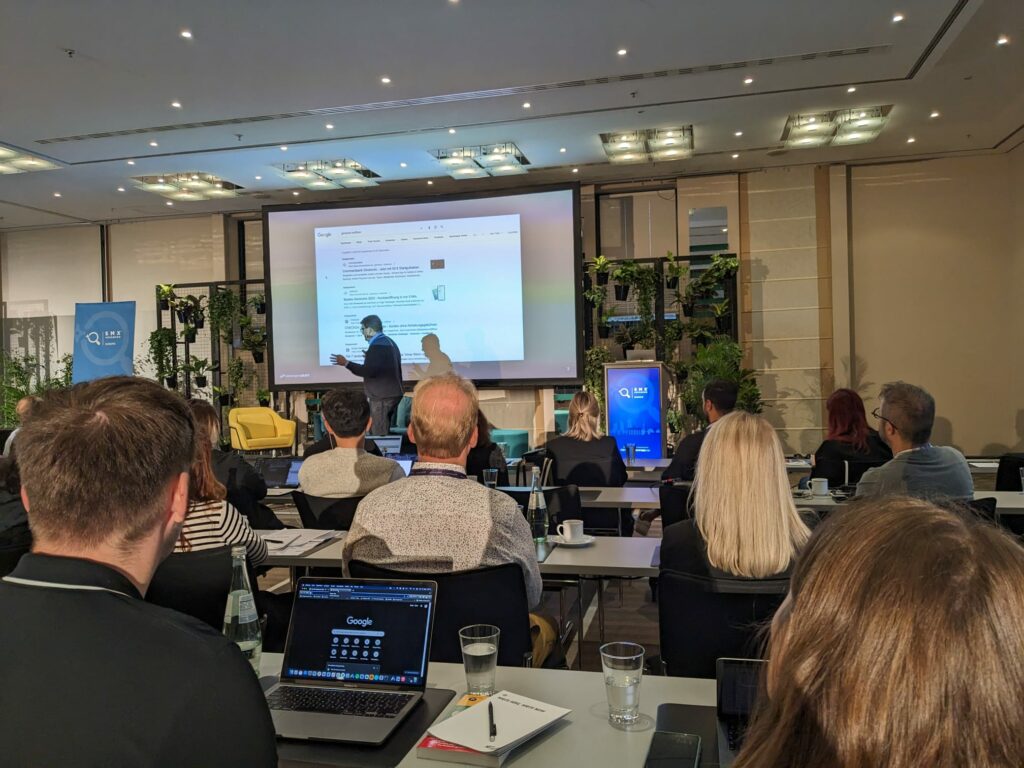 Tom Anthony, CTO, Search Pilot
After a quick snack break, we got back into talk-mode. Tom Anthony took the stage next with his talk "Entities are the past: Search is going multidimensional". This was a great talk about how the focus of search has shifted from keywords to entities – and how it may shift again very soon. Tom predicts that the biggest change in search since pagerank is coming very soon and that we should be ready – and make sure we stay ahead of the competition.
We learned about:
The shift from keywords to multidimensional thinking
The role of Deep Learning 'latent spaces' in search
Strategies to prepare for the upcoming era of context-driven search
Bastian Grimm, CEO & Co-Founder, Peak Ace AG
We all know that this was the speaker we were most excited to see on stage. At 11:20, Bastian kicked off his highly-anticipated talk "The Rise of AI: AI is "Everywhere", But Now What!?" and brought us with him into the world of AI, from where it was 12 months ago to where we are today, and then invited us to look into the future. Packed with practical examples, use cases, and tool recommendations, this was a top-notch expert talk.
Our key takeaways were:
AI will automate a lot of our simple daily tasks – taking over the "doing"
This will allow SEOs to focus on the "thinking" and strategising work
Hallucinations aren't going away, so creatives will always have to be involved in quality-assurance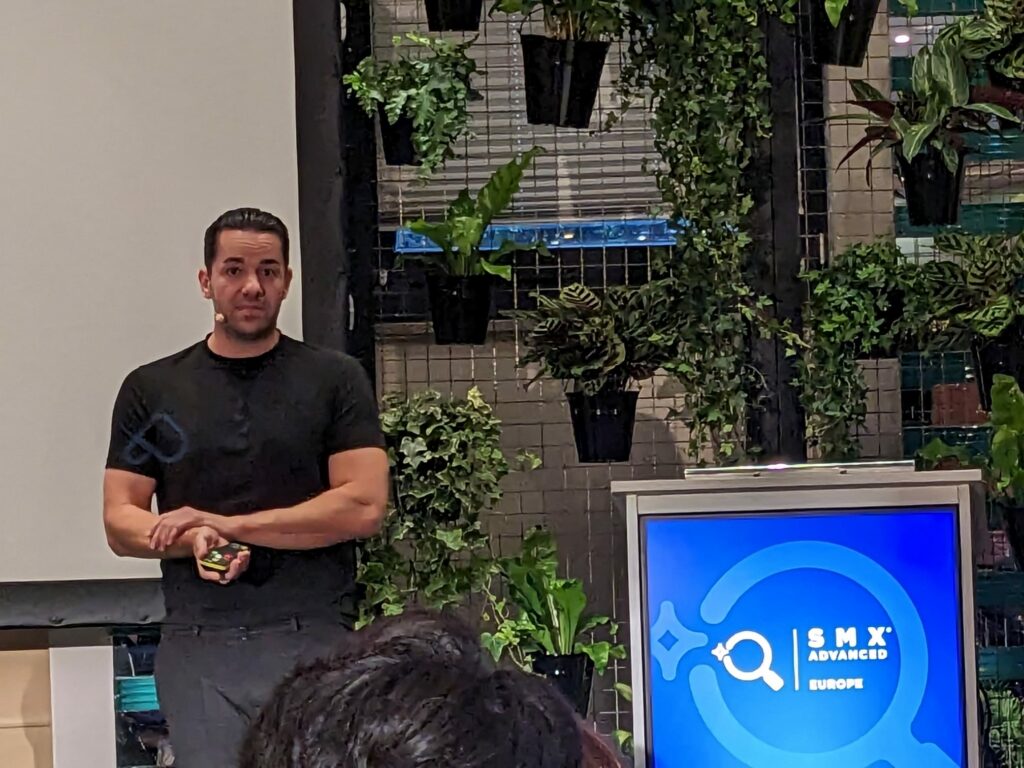 Lily Ray, Senior Director, SEO & Head of Organic Research, amsive digital
After a quick break for lunch, we headed back to the Zürich/Bern room to see Lily Ray speak. Her talk was titled "Let's Get Real: Advanced Tactics for Using AI Tools & Big Data Analysis to Improve E-E-A-T" and took a step away from AI to re-focus on E-E-A-T itself and how it interacts with Big Data. It was a fascinating and engaging talk that gave us some great tactics to improve SEO and not to miss out!
Key highlights included:
Utilising AI tools to bolster SEO strategies
Implementing advanced tactics to improve E-A-T
Putting the latest developments into action for better SEO results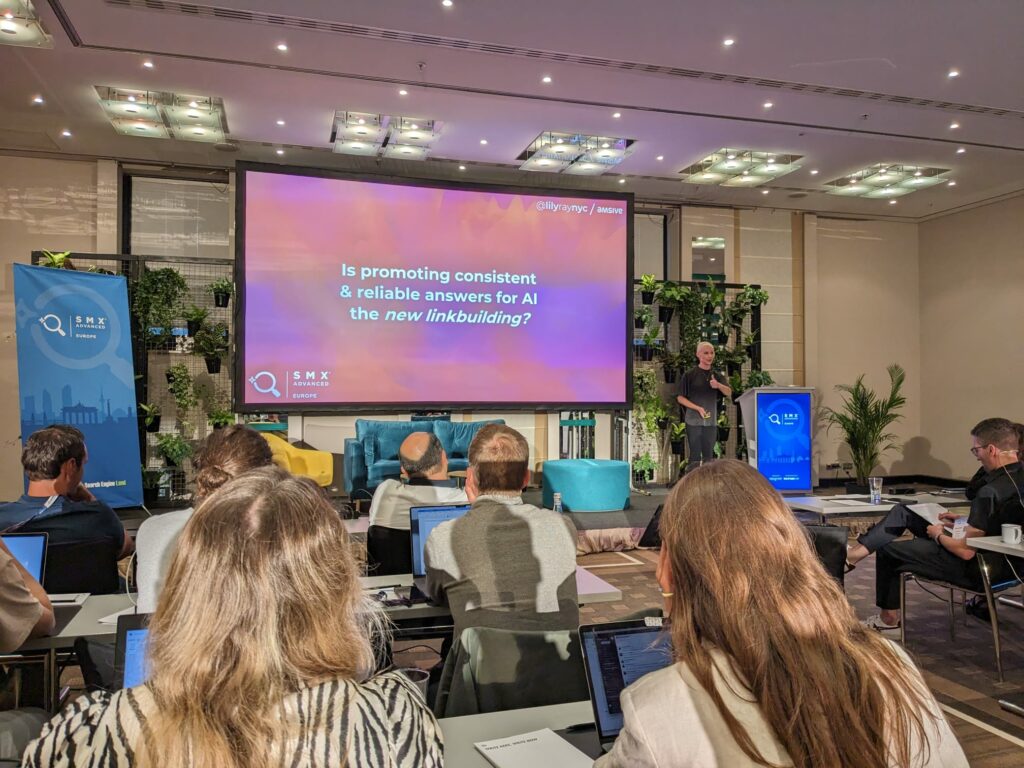 Alexander Breitenbach, Senior Solution Consultant, Ryte
Next up for us was Alexander Breitenbach's talk "Finding the KPIs that matter for your business (and that you did not know yet)". In his hour-long session, Alexander challenged any preconceptions of what makes a successful KPI and walked us through how to create the best framework for defining KPIs in your business. He stressed the importance of specificity and tailoring your KPIs to your work.
We learned:
Common challenges in defining SEO KPIs
The importance of customised KPIs
Practical frameworks and examples for KPI selection
Joost de Valk, Partner, Emilia Capital and Founder of Yoast
Joost led an eye-opening expedition into the mysterious realm of SEO crawling in his talk "Is there such a thing as too much crawling?". Attendees were taken on a safari through the bewildering crawl behavior of search engines and SEO tools.
This session offered a glimpse into:
Understanding the consequences of excessive crawling
Strategies to help websites be crawled less but more effectively
Insights into search engines' crawl behavior and SEO tools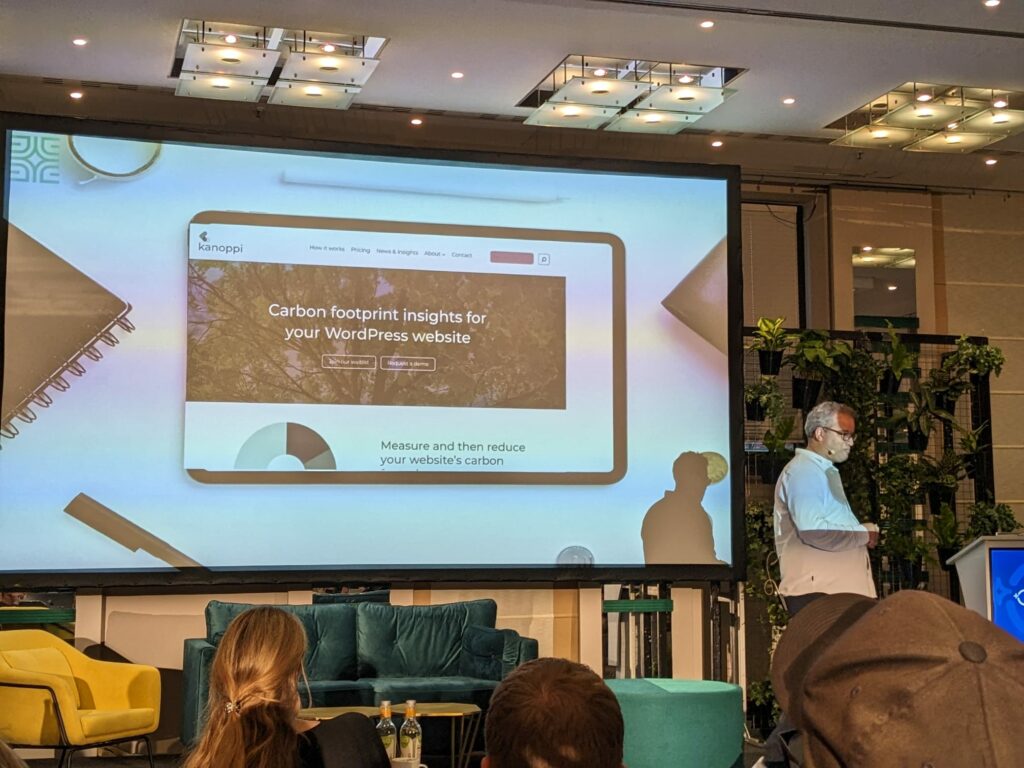 SMX Day 2
Full of new knowledge from day 1, we were more than ready to dive into day 2 at full force. After a quick, tasty breakfast, we kicked off a second day of fascinating expert talks and discussions…
Martin Splitt, Developer Advocate, Webmaster Trends Analysis Team, Google
with Martin Splitt's "Technical Site Audits – The Definitive Guide". Splitt walked us through the most important things to focus on in technical SEO audits and welcomed us into the world of Google's technical evaluation of webpages.
What we took away:
Google's evaluation of pages on a technical level
Key focus areas for technical audits
The relative importance of audit elements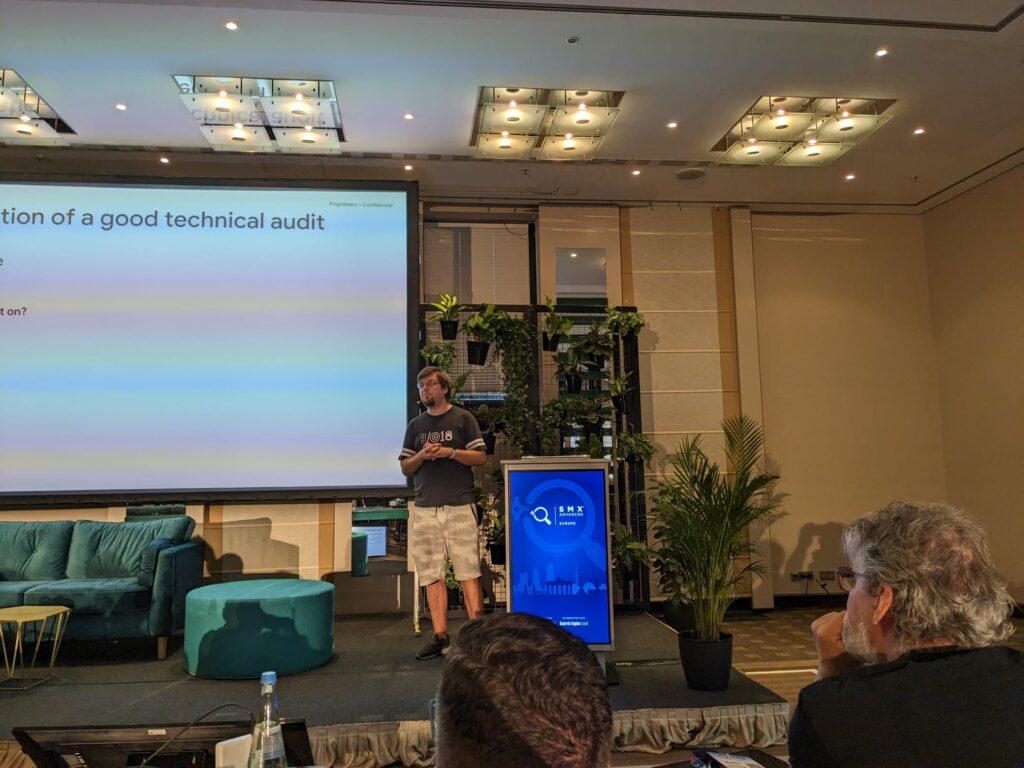 Markus Hövener, Founder and SEO Advocate, Bloofusion
As Google Search becomes more visual, this session – "Visual Snippet Optimization for SGE, Perspectives + more: How to Stand Out from the Crowd (and Get more Clicks)" – explored the need for high-quality visuals and visual snippet optimisation.
We discovered:
Google's move towards visual search elements
Technical and design requirements for visual snippets
Strategies to achieve higher click-through rates in new SERP features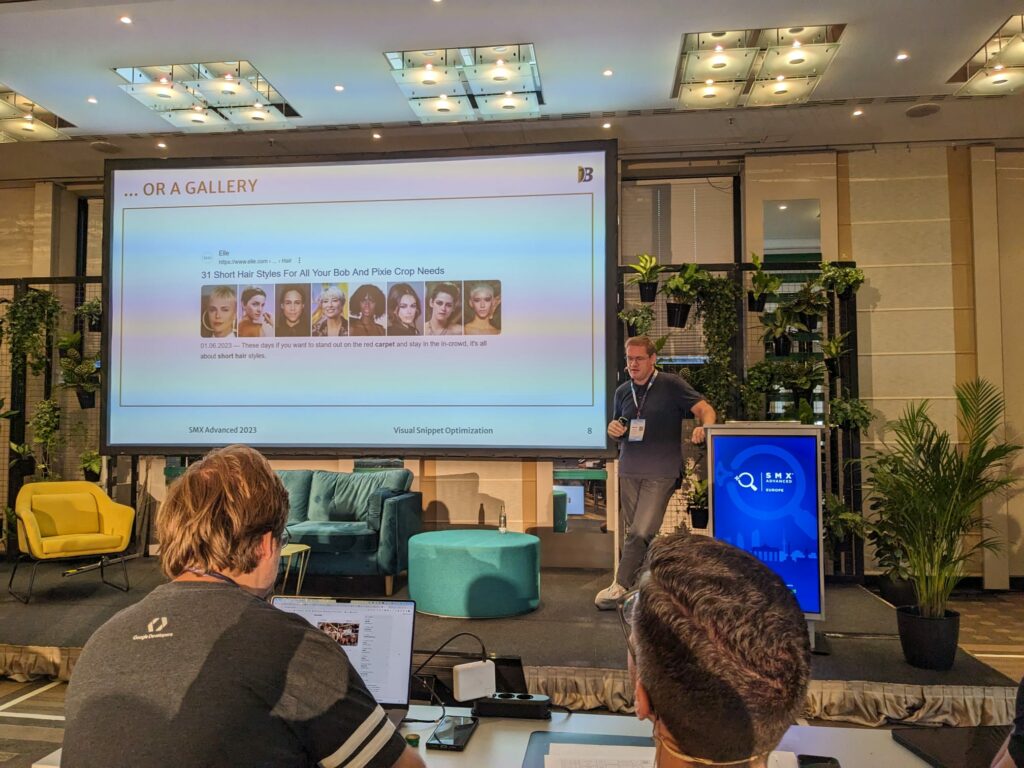 David Mihm, Consultant & SaaS entrepreneur, David Mihm Consultancy
David discussed the evolution of keyword research and the importance of a smarter keyword taxonomy for localised search results. His talk "Why You Need a Smarter Keyword Taxonomy, and how to use it to Improve Performance for Localized Searches"  looked at taxonomy, site architecture, and on-page optimisation – and how you can make them work together to increase customer acquisition.
Our takeaways:
The complexities of localised search results
Developing a smarter keyword taxonomy is essential – and how to do it
How to align site architecture with the keyword taxonomy to boost customer acquisition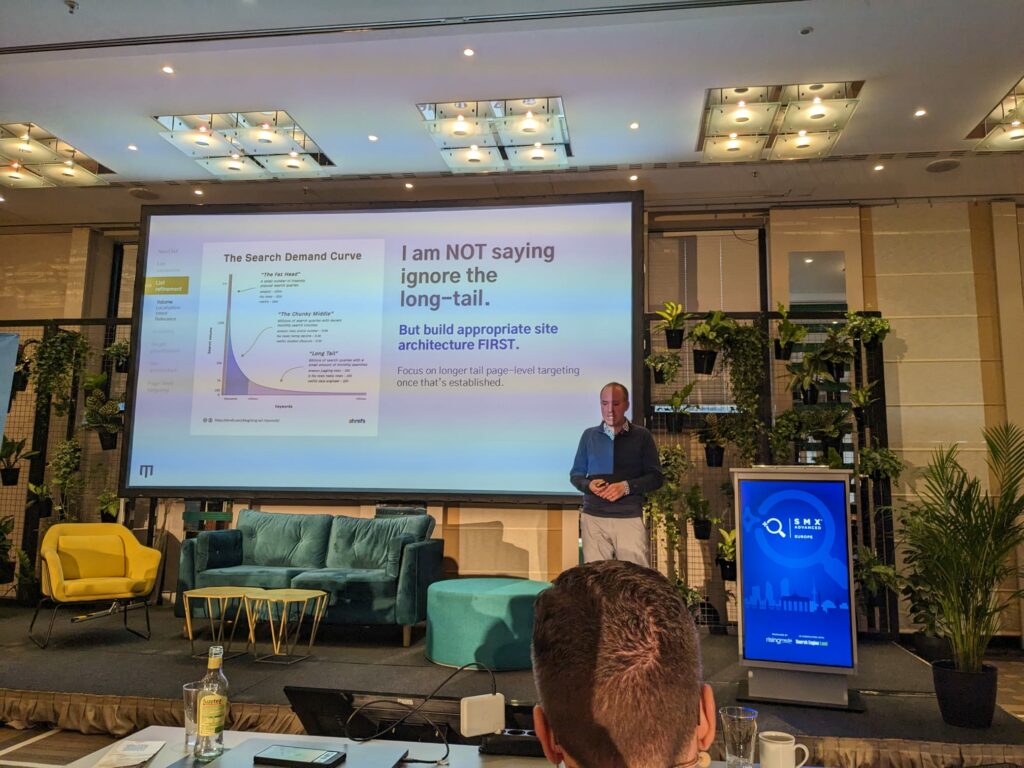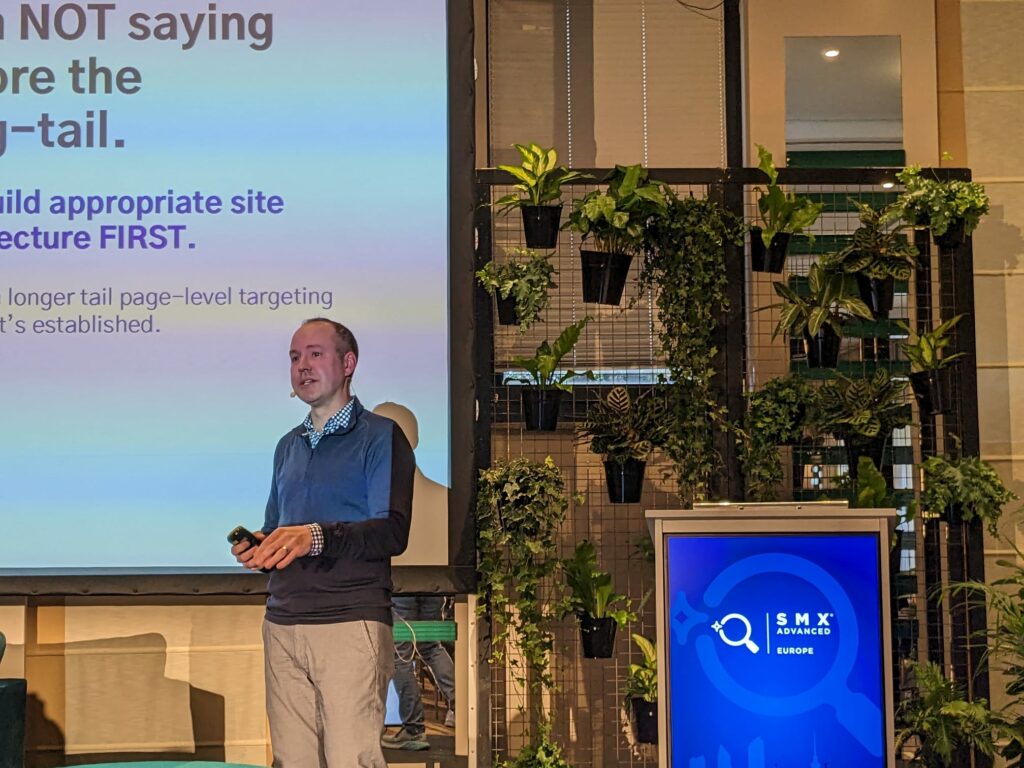 Christoph Gutknecht, Teamlead Analytics & Performance, Bergzeit and Danny Zidaric, Lead SEO, Bergzeit
Next, the boys from Bergzeit took to the stage to give their talk "How to Recover From an Unsuccessful SEO Relaunch by Activating Your Data". This session focused on using SEO data to diagnose and address issues after an unsuccessful website relaunch.
We gained insights into:
Leveraging SEO data for problem-solving
Actionable steps to improve website performance
Technical aspects of data organisation and data models
Jan-Willem Bobbink, Freelance Consultant
The final talk of the SMX Advanced 2023 conference for us was Jan-Willem Bobbink's "Dealing With User Intent in a Time Where Google Depends on AI". This took a really interesting look into what AI developments at Google mean for users and SEOs alike, and worked on how best to decode the (sometime) mysteries of user intent.
By the end of the session , we were equipped with:
Illuminating examples of shifts in user intent
Proven strategies to navigate and harness changes in the industry
The keys to preventing unforeseen SEO turbulence in the AI-driven future
The end of another iconic year of SMX Advanced
As we wrap up SMX Advanced 2023, it's been a fruitful journey filled with practical insights and strategies for the world of SEO. From adapting to market changes to harnessing the potential of AI and diving into the nuances of localised search, we've gained valuable knowledge to take back to our work.
The real value of this conference lies in how we apply these learnings in our day-to-day efforts. So, as we part ways, let's keep these insights in mind and continue to evolve our SEO practices. The SEO landscape is ever-shifting, but armed with the knowledge from SMX Advanced 2023, we're well-prepared to tackle whatever challenges lie ahead. Until we meet again on this SEO journey, here's to practical success and effective strategies in the digital world.